Welcome to Harvey Public Records!
- About Harvey Public Records
- About The Harvey Report
- About Record Checks
- Sample of Harvey Report
- Record Check Searches


About Harvey Public Records
Our goal at Harvey Public Records has been to provide you, our customers, with accurate, up-to-date, needed information to help you achieve your business goals. For over 60 years we have served McLennan County, Texas and for over 18 years we have served Bell County, Texas. Our service started out being only a legal news letter which published all county recordings, but over the years we have expanded to include many other services.

About The Harvey Report
The Harvey Report is published once a week. There is no repeating of information. Information in the report includes Federal & State Tax Liens, Abstract of Judgments, Child Support Liens, Mechanics Liens, Labor/Materialman's Liens, Assumed Names, Hospital Liens, Power of Attorney, Marriage License, Probate Records, Building Permits, Evictions, Divorce Suits, Bankruptcies, Deeds & Deeds of Trusts, Security Instruments, Release of Lien, and Assignments & Transfers. We supply names addresses, ID#s, amounts, etc. where applicable. To see a sample of our report click here.

About Record Checks
Harvey Public Records, a member of Public Record Retrievers Network (PRRN), will research court records on the county, state and federal level. We can supply you with copies of documents, certified copies, or data concerning documents. To see all the areas of our service, click here.

If you are interesting in getting more information on how you can subscribe to our record checks service, visit our subscription request form, or email us at info@harveypublicrecords.com.





Note: This sample is for layout viewing only. Specific information has been blurred intentionally.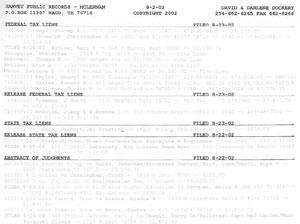 Harvey Public Records offers the following searches which are available as part of our record checks service:

Criminal Felony Searches
Criminal Misdemeanor Searches
State Tax Liens
Federal Tax Liens
A/J's
UCC's
Fixture Filings
Bankruptcies
County, State (District), and Federal Civil Suits
Current Owner Searches
Document Retrieval & Filings
Others

We have access to all public information at the following courts:

US Distric Court
Bankrupcy Court
Civil Court
Criminal Court
Probate Court
UCC Filing Office
Real Estate Recording
Tax Filing Offices